Blog
Wrap It Up: How To Make Easy Bread-Free Sandwiches
Le Sandwich. Much loved by busy people all over the western world.
However quick n' easy it might be to whip up as a snack, for the kids' lunch, for your lunch or even dinner, the bread which notably keeps the other ingredients neatly packaged in causes grief to many in the form of bloating, energy slumps, brain fog, poor digestion, skin issues, cravings, wind, IBS and other symptoms (including a pot belly). Most people are not even aware that their humble or most sophisticated sandwich could be causing these issues as this is just 'the way they feel every day'. I invite you to feel how your body feels before eating a sandwich and after. 30 mins after. 60 mins after. 2 hours after. How do you feel? Energised? Tired? Nicely full? Uncomfortably full? Hungry? Cravings? How about your children – are they hyperactive, low on energy, how do they behave? Bringing awareness into what we eat can do wonders to help us figure out how certain foods affect us.
Although the filling could also be playing a role (high sugar content, dairy), it is the wheat and other gluten grains we are interested in today. As well as the symptoms outlined above, commercial bread is full of sugar and other additives whilst virtually all the goodness in it has been removed through the refining process. Yes, even 'brown bread, multigrain, wholemeal bread' has had the beneficial nutrients removed. Don't be duped by the brown colour – more often than not this is dye. 'Added fiber, vitamins etc' – are not in a form that is recognised and usable by the body.
Of course there are healthy alternatives to choose from: sourdough bread, sprouted grain bread, gluten free bread made with quinoa, chickpea, amaranth, buckwheat etc flour or make your own from scratch. As a transition you could switch to 100% wholegrain bread (check that any bread you buy doesn't include added sugar or other dubious sounding ingredients) but if you experience any of the symptoms above on a regular basis, you could try cutting out the wheat entirely for at least a couple of weeks to see how you feel.
So, now for the exciting part! How about a sandwich without the bread? I love these. They are so easy to make and leave you feeling fresh, nourished and energised. Greening-up any meal brings huge health benefits and this is one very simple way to add more greens into your day.
Children love these and often enjoy making them.
Here are my top 3 no-bread sandwich suggestions
1. The Cabbage Leaf Wrap
Choose a cabbage with big leaves.
Wash the leaves.
Spread your choice of spread on the leaf. Here I've used miso paste & almond butter.
Top with the rest of your ingredients (don't go over board, you can always add to it). I've added egg, lentil sprouts, red bell pepper, cucumber, paprika, turmeric.
Roll it up.
Eat it. Eat it.
Tip: cut the hard end piece off and fold the corners in to 'seal' the end and prevent mess.
2. The Nori Roll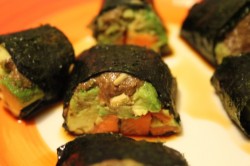 Spread your choice of spread on the nori sheet. My favourite is miso paste & tahini.
Add your toppings, thinly sliced, away from the edge of the sheet – try 1/3 of the way in. I like to use carrot, avocado, cucumber.
Roll it up: ignore the 'edge' where you would usually start to roll something, instead bring the edge way over so that it goes past your filling, press down just after the filling so that it sits tight. Continue rolling. Dab the end of the nori sheet with a drop of water and stick it together. I just eat it like that in one big piece without cutting it into these little pieces shown here. Sounds complicated. It isn't. Try it. Dip in tamari.
3. The Cucumber Stick
Hollow out a cucumber (the ends are best as the filling doesn't drip out) with a knife and tea spoon (or however works for you).
Stuff with your filling of choice – make sure to get it right down the end before you add to it. I chose hummus here and topped with paprika.
Crunch and munch.
These are also great as an 'open sandwich'. Just cut the cucumber in half lengthwise, hollow it out and add your filling of choice.
So easy. So tasty. Everyone likes fun food. Be creative with your fillings. How about peanut butter, guacamole, zucchini, grated beetroot…
What do you think – are you ready to give these a go instead of your usual bread sandwich, just to try it out?