Blog
20 March 2013
Do you think fat is unhealthy? Do you think fat makes you fat? Let me help you bust the fat myth by telling you a little of how it really is in this video. So, what fats are you going to enjoy in your daily diet and how will you incorporate them into your meals?
---
6 February 2012
You can have your cake and eat it too! There is no more pleasurable way to indulge than with scrumptious, rich yet highly nourishing desserts. 'A moment on the lips, a lifetime on the hips' – we've all heard that one before, right? With these cakes, rather than simply satisfying a moment of gustatory enjoyment, more…
---
21 November 2011
Superfoods = multi-tasking, superstar foods you really want to have on your plate every day because they're low in fat, low in sodium, high in fiber, vitamins, minerals and antioxidants. You may have heard of Superfoods with exotic names such as chia seeds, goji berries spirulina and maca powder, but did you know that there more…
---
14 November 2011
Making homemade gifts helps you to 'use, re-use, recycle' by offering lovingly made, earth friendly gifts. This is also a great activity if you have children not only because it's great fun, but also because it serves as an example that you can create special gifts which support sustainability through recycling, the environment by reducing the use of plastic and shipping and that the intention and motivation behind a gift are of greater value than actual monetary value.
---
17 October 2011
Ever tried massaging a salad before? Neither had I, until this weekend. It's very simple and kinda fun to get your hands dirty to swoosh around delicious ingredients in your favourite salad bowl. We made a massaged kale salad which seems to be the green leaf of choice for this method as the leaves are more…
---
19 September 2011
Packets of chewy sweets, biscuits and motorway sandwiches just don't cut the mustard when it comes to arriving fit and fresh at your destination at the end of a long road trip. It all comes down to planning ahead so that you don't have to resort to what I call 'motorway fake-food': produce which has more…
---
1 September 2011
---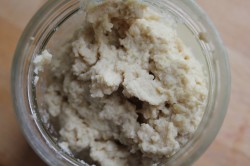 21 June 2011
For those of you (including me) who don't eat cheese whether it be due to a lactose intolerance, because you don't like it (does anyone not like cheese?!) or for health reasons, nut cheeses – popular with raw foodists – are a great alternative. No, they don't taste like regular cheese. Because they're made of more…
---
4 May 2011
Forget all this talk about fast food being bad for you. It's not. Fast food is GOOD FOR YOU! Yes, I know, booorrring – you know I mean the healthy kind. The kind that does not contain any processed 'stuff', any added sugar or toxic chemicals, no unhealthy fats. I mean the kind that curbs more…
---
3 April 2011
Healthy homemade muesli Can't go without your morning cereal? Commercial cereals are packed with sugar and other additives such as E numbers that you don't want to be eating. I remember my father eating his morning muesli and I just really didn't like it. But, since making my own I love it! Here is a more…