Blog
24 June 2012
If Apple Cider Vinegar (ACV) isn't a staple in your house, it will be once you realise just how many benefits it has (other than to make a delicious vinaigrette). ACV is one of my favourite ingredients to use in the kitchen, bathroom and around the house. ACV has been used for hundreds of years more…
---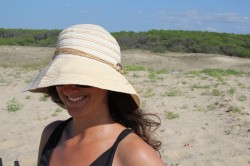 10 June 2012
Vitamin D. My favourite vitamin to get in its natural form. I admit it. Sunbathing – safely – is one of my favourite feel-good hobbies. I needit to thrive. In actual fact, so do you. Why is Vitamin D so important? Vitamin D is a fat soluble vitamin needed for: the proper absorption of calcium; more…
---
1 April 2012
Easter is next week and if you're not thinking of Easter bunnies or painting eggs, I can guarantee you're thinking about chocolate. Just because we do. Not matter what time of year. The majority of you reading this post are doing so for two reasons. 1. you are a health enthusiast who always has an more…
---
6 February 2012
You can have your cake and eat it too! There is no more pleasurable way to indulge than with scrumptious, rich yet highly nourishing desserts. 'A moment on the lips, a lifetime on the hips' – we've all heard that one before, right? With these cakes, rather than simply satisfying a moment of gustatory enjoyment, more…
---
24 November 2011
Optimising your health to boost fertility and create the healthiest baby possible is not all about cutting out. What you put in is just as important. This delicious smoothie is one way of packing in a punch of nutritious goodness in just one glass. Fertility Smoothie Benefits Vitamins and Minerals – pack in your important more…
---
28 October 2011
When heated, that apparently wonderful non-stick surface releases a less than wonderful chemical (with a very un-user friendly name) – pefluorooctanoate (PFOA) which is part of the larger perfluorinated (PFC) family of chemicals. Everyone knows not to scratch a non-stick surface. The reason? It may be because scratches reduce its effect, but that is not the only reason. When these surfaces become scratched and are then heated at a high temperature this allows even more toxins to leach out into our foods.
---
20 October 2011
Bee pollen has been used for centuries for its healing qualities, from Hippocrates to the Chinese and ancient Egyptians. It is considered to be one of the most nutritious, complete foods (a Superfood) in nature, said to contain all the essential nutrients: vitamins
---
14 October 2011
Essential oils can be very useful for female concerns. In fact, aromatherapy is one of the most effective methods of dealing with problems of the reproductive system. Many essential oils have been used to help regulate hormone production. Some essential oil constituents have hormonal like behavior since their structure is similar to hormones. This means they interact with the receptors that identify hormones.
---
7 October 2011
Microwaves: Convenient as they may be, cooking and heating your food up in minutes, microwave ovens have been outlawed in Russia since 1976 along with a warning about the 'biological and environmental damage' that can result from its use.
Microwaving food modifies its original chemical structure or 'form' in a way that our bodies cannot recognise.
---
26 September 2011
I don't know about you, but I love spending time in nature, taking a step back from the busy-ness  (and business) of urban life. Even if just a few minutes, hours, or better still, days or weeks. Unless you want to live in a totally man-made world (shudder), it is so important to take the more…