Blog
Raw Mince Pies
Whether you celebrate Christmas in style with the whole shebang or prefer a quiet, intimate meal without much a-do, we all have our favourite Christmas foods, those familiar flavours that we look forward to as the Christmas lights go up in the street, there's a somewhat different seasonal hustle and bustle in the air and you hear Christmas songs everywhere you go. Mine are: – vegetarian 'not-meat' loaf – mince pies – bûche de noël – nectarines I have yet to perfect my chosen vegetarian, gluten free, dairy free and of course refined sugar free options of the first three (the nectarines are sorted), but here is my first attempt at raw mince pies.
My main challenge here was not having a dehydrator for the base. I thought that I could get around this by popping the bases in the freezer. This did harden them of course, but after taking them out of the freezer to warm up enough so that we could eat them, although they looked solid, they fell apart as soon as we dug our teeth in. To be honest, they tasted so good that as long as you have a plate, this doesn't really matter. However, next time, I'm going to use dates in the base to make it a bit more solid (and will then use dried apricots in the stuffing instead of dates). Seeing as it's winter and it's cold enough outside, you ideally want to eat these at room temperature so as to avoid giving you the chills, which is why you don't really want to be eating the pies straight out of the fridge – I'm hoping that adding dates to the base will hold the base enough for this to be possible without it falling apart.
Raw Mince Pies
Ingredients
2 cup

soaked almonds - FOR THE BASE

1 cup

ground oats or oat flour

1/4 cup

raw honey

2 T

water

2 T

orange or lemon juice

pinch

salt

1.5 cups

soaked dates - FOR THE FILLING

1 cup

raisins soaked in lemon juice and water

2

finely chopped apples

1.5 t

mixed spice

pinch

salt

1.5 cups

soaked cashews - FOR THE ICING

1 T

lemon or orange juice

3 T

coconut oil

1/4 cup

raw honey

1/2 cup

water
Cooking instructions
For the base: Grind the ingredients together
Press into muffin tray (silicon otherwise line the cases with cling film). If you have a dehydrator please follow link for instructions
For the filling: Blend ingredients together to form a paste - except apples and raisins
Mix in the apples and raisins. Blend together - optional
Add to muffin cases
For the icing: Blend ingredients until totally smooth
Add on top of the filling
Garnish with a pinch or nutmeg or cinnamon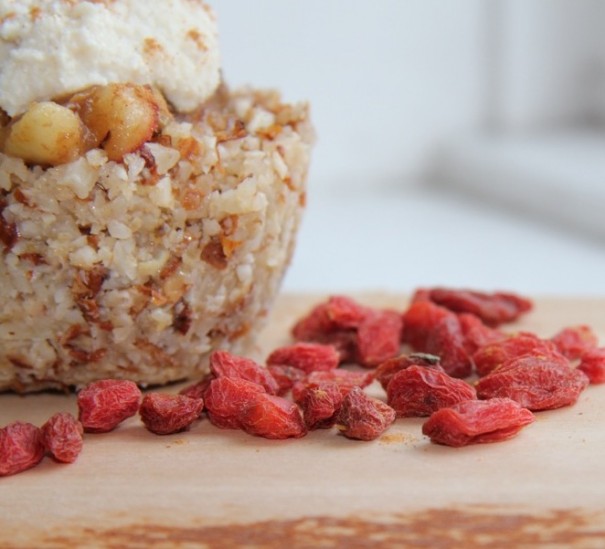 We didn't have mixed spice so I used a mix of cinnamon, nutmeg, cloves and cardamom (crack the cardamom pods open with the back of a spoon and discard the shell).
Here
is the original recipe for you. It makes for about 13 mince pies with a LOT of left over filling and topping. I have a plan for those and will report back as soon as I've tried it out… My next trial will be my friend Alison's
Carob Christmas Pies
which look totally divine and a gluten free bûche de noël.
What's your favourite vegetarian, gluten-free, dairy-free Christmas recipe?